Step I: Receive the Mission
Missions and Taskings: The Army's Versions of Christmas Presents
Pop Tarts, Salty Tears, and Beveled PowerPoint Text Boxes: How to Implement the Best Practices of the Military Decision-Making Process into Your Dealership Operations
Welcome to the first installment of a multi-article series that describes an approach to leveraging concepts from the Military Decision-Making Process (MDMP) for developing  a strategic vision or planning for a major event. This blog series will breakdown each of the seven MDMP steps to explain the following: 
1) How Army staffs conduct the step. 
2) Best practices learned from our collective experiences during our time playing Army.
3) Recommendations on how to integrate these best practices into your operations.
We're looking forward to this discussion and hope that our past experiences help you deliver the elite service your customers deserve. Please don't hesitate to reach out if you have feedback (we're always interested in how we can optimize our operations) or if we can answer any questions. 
Enjoy. We here at Auto Labs love two things: 1) helping our customers achieve new levels of success and 2) sharing what we've learned with the broader community to keep everyone on the road safe in reliable vehicles.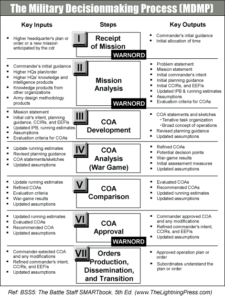 Strategic Vision for Your Dealership Brought to You by Uncle Sam
Developing a strategic vision, communicating it to your workforce, and acieving the plan's objectives is a fundamental process to any organization. A strategic vision is similar to a first aid kit: having a simple one is better than nothing but dedicating the time and resources to building a good one will help you survive the worst situations. 
Uncle Sam has fully-funded multiple camping trips to both semi-tropical locations in the southeastern United States and exciting international destinations for many Auto Labs employees. During these happy times, we used the Military Decision-Making Process (MDMP) to plan everything from multi-month operations in Afghanistan to Squadron Easter Egg Hunts (not joking about that one). Regardless of the operation, MDMP always produces the same thing: a flexible plan that reduces risks to achieving a desired end state which aligns with a strategic vision. 
The phrase "flexible plan" is an operative term. Very few things in the universe are linear and unaffected by change. Therefore, developing a plan to achieve a desired end state must be flexible and allow subordinates to rapidly make informed decisions which aligns with the organization's vision. Your team can't make the quick decisions required to seize fleeting opportunities if they don't clearly understand what you want them to do.
While many of you might be rolling your eyes after reading this intuitive fact, we've all been on teams in which the boss treats their desired end state as if it were the launch code to a nuclear missile. Unless those teams have a clairvoyant member, that team will waste hours and sometimes days building plans and strategies that they think align with what the boss wants to accomplish. These scenarios typically end with the wailing and gnashing of teeth akin to Viking sagas.   
Before we begin, it's worth noting that it often takes an entire staff to perform MDMP. A staff's size can range from ten tired and dirty people huddling around a red lens flashlight in the woods to three hundred people dreaming up good ideas in a division headquarters. Therefore, the size of your planning team could also vary depending on available personnel and dealership size. Hell, it might just consist of you alone pounding keys on your laptop afterhours in your office. So crack open a Rip-It, fire up a counterfeit cigarette, and turn up the heat to 120 degrees. Let's talk about how MDMP can work for you and your team.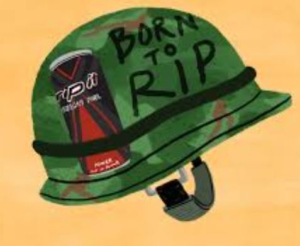 Step 1 Receive the Mission

How The Army Does It
Back in our glory days, this step began when we received an Operations Order from our higher headquarters. Immediately, we had to determine two things: how much time we had to plan and our leadership's initial priorities. Next, we published what we called a "Warning Order" or, a short document to our subordinate organizations that provides them with three things:
A description of the mission they will soon receive. This description typically consists of "The 5Ws" (Who, What, When, Where, and Why).

The amount of time they have to prepare and plan.

The boss's initial planning priorities.
Issuing a Warning Order is not hard. Saying something as simple as, "This is what I think we are doing," makes you a stunning example of leadership. That said, below are some "do's and don'ts" we've collected during the course of our Army adventures. 
What We Learned
| | |
| --- | --- |
| Good Ideas | Bad Ideas |
| Tell your team something, anything really, about what you need them to do. Partial information delivered early is invaluable. | Wait until you have every detail of information before letting your team know what they need to do. |
| Ask your boss for planning guidance and to define their endstate so your plan nests with their goals and objectives. | Assume you know what your boss wants and end up making an inconvenient discovery late in the process. |
| Provide worst case scenario planning timelines. Nobody gets upset when they learn they have additional prep time, | Pencil-whip a planning timeline because "no plan survives enemy contact, so let's improvise until we figure it out." |
| Provide no more than three critical events to focus your team's preparation and prioritize their planning efforts. | Be the boss who defines twenty different things as priorities and get grumpy because the end result lacks focus.  |
How You Can Use It
Providing your team with a Warning Order helps them understand what you expect them to do, the available preparation time, and the priorities on which you want them to focus their planning efforts. The 5Ws is a flexible construct that intuitively transposes on events ranging from a massive OEM safety recall to our beloved Squadron Easter Egg Hunt (yup, I'm still bitter about that one). The 5Ws will transition into your mission statement during the next step but for now, they are an effective means of enabling your team to understand what they are about to do.
Next, decide how much time your team has to formulate the plan. We always embraced the one-thirds/two-thirds rule (one-third of available time for formulating your plan with the remaining two-thirds going to your subordinates so they can make their own plans). In addition to a timeline, you can provide your subordinates with your initial guidance.
Defining your expectations early and sharing your vision helps your team see the problem through your eyes and align their priorities with those of your own. Ideally, you've already done the same with your boss or corporate headquarters so the plan nests with a higher strategic vision down to the lowest level.
Trust me, many of us on the Auto Labs have spent all night jamming on an order only to learn that the boss had different ideas and our plan would lead the entire organization to Crazy Town, USA. Indeed, our tears salted the cold, scrambled eggs sitting atop a flimsy paper plate for we knew we must head back to the Bill Gates PowerPoint Salt Mine to start from scratch.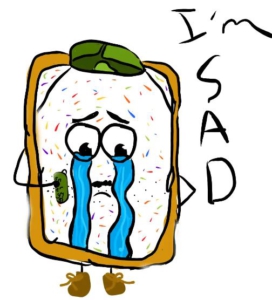 Stay Tuned For Next Time
That wraps up the first episode of the series. The major point of MDMP's Step I defines success as the following: a clear communication that informs your subordinates what you need them to do, how long you need them to do it, and how their actions fit within a broader strategy or plan. This information doesn't require a formal presentation; honestly, a simple huddle or email will suffice. Transparent communication and timely exchanges of information are the fuels that keep effective organizations running. Step I is merely a forcing function to that end.
Join us next time for our discussion about the PowerPoint Superbowl for every staff in the Army – Step II: Mission Analysis. 
Do want to learn more about how Auto Labs can solve your wicked problems?
Subscribe to our Newsletter
Get tips and tricks to create efficiency and drive revenue for your dealership.