Build Loyalty, and They Will Come
How your Net Promoter Score can drive your dealership's growth
YouTube has given us a lot over the years: cute cat videos, epic depictions of road rage in Russia, and pointers on how to replace a garbage disposal on your wedding anniversary (true story for this guy). Recently, YouTube has delivered a legendary riff from Mike Esposito, President and CEO of Auto/Mate. In this clip, (https://www.youtube.com/watch?v=7ozUYJ3MPU4), Mr. Esposito posits that CSI scores focus on a single transaction rather than aggregate customer loyalty. In different terms, your dealership could provide a customer with the world's fastest oil change and achieve a phenomenal CSI score. However, during the next visit, your dealership could forget to reinstall the customer's lug nuts, thus causing that individual to hate your dealership more than the city of Boston hates Billy Buckner. Mr. Esposito states that your dealership should stop playing the CSI game (not talking crime scene investigation, but we all love The Who) and focus the Net Promoter Score (NPS). What is a NPS? Well, this score boils down to one simple question: on a scale of 1-10, how likely are your customers to recommend your dealership to someone else? So grab a cup of coffee; we'll walk this dog with you and break down a NPS in five minutes or less.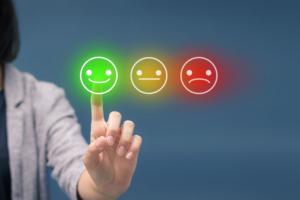 We all know that the aforementioned CSI game is how OEMs measure your dealership's performance. However, as Mr. Esposito cautions, it is unwise to become fixated on this number. Instead, try to embrace this paradox: you can improve your CSI without focusing on your CSI. Yes, the parallel to a golf swing is readily apparent. Instead, focus your efforts on building customer loyalty rather than satisfaction. 
So why is loyalty more important than satisfaction? Please don't refer to Tony Soprano for answers. Frederick Reichheld, a director at the management-consulting firm Bain & Company and a prolific author on customer loyalty conducted a two-year study to answer this question. Reichheld defines loyalty as "the willingness of someone…to make an investment or personal sacrifice in order to strengthen a relationship." Loyalty means more than repeat purchases. Loyalty translates to the customer placing their reputation on the line to recommend your dealership to a friend or family member.
It's important to avoid a potential pitfall and disregard the NPS in lieu of repeat customers. As Reichheld states in his article "The Number You Need to Grow," customers might continue to buy vehicles from your dealership because they don't have a choice. If you are the only dealership in Point Barrow, AK, you stand a decent chance to sell every person in town a car. They could hate your dealership, yet they will continue to buy from you. The reason why a NPS is more important than repeat customers is because it is a true indicator for growth. In his article, Reichheld would defend this position by citing the correlation between growth and a NPS score in three major industries (airlines, internet providers, and car rentals). In each case, those firms with the highest NPS scores had the highest growth. So let's get back to defining what constitutes an NPS. 
A NPS assigns a customer to one of three bins based on their willingness to recommend your dealership to a friend. In simple terms, it assigns a quantifiable score to their loyalty. The graphic below defines the bins in which customers fall based on their response.

Calculating an NPS boils down to a simple math equation: the number of happy customers minus the number of grumpy customers. Your score could range from -100% (time to pack it up and find something else to do in life) or +100% (you must be handing out free puppies and snow cones with each oil change). Realistically, any dealership that scores within the 75-80% range has arrived at NPS Nirvana. 
So how does one arrive at the NPS Promised Land? Well, the answer differs from dealership to dealership. Puppies and snow cones might work at one dealership but customers at another dealership might base their opinion on the actual quality of service that your staff provides. If one were to establish a foundational approach to attacking the spectrum of customer service approaches, one could argue that it sounds something like this: deliver elite customer service at the right time and at the right price, and your NPS will take care of itself. 
This is where Sophi CX can help. We all know that your service advisors are a critical aspect to providing elite customer service, and thus building customer loyalty for your dealership. True, they have an immense workload that spans from the initial customer engagement to seeing them out the door after your dealership completes the service. Arguably, the last portion is the most important. So why not focus your service advisors' bandwidth on taking care of the customers while they are at your dealership? Sophi CX can assume the burden of the initial contact, scheduling the appointment, and other logistic aspects required to set the conditions for a fantastic customer experience. She can get them in the door so your staff can focus their efforts on delivering marquis service. In turn, your customers will leave your dealership remembering the focused and individual experience they received and will thus transform from mere customers to advocates.
So reach out to us today and schedule a demo. We can work with your team to provide your customers with elite service and drive the advocacy needed to meet your dealership's NPS goals.   
Sources:
Reichheld, F. (December, 2003). The One Number You Need to Grow. Harvard Business Review.
Why CSI Scores Have Nothing to Do With Customer Loyalty. (2015, September 08). Retrieved October 01, 2020, from https://www.youtube.com/watch?v=7ozUYJ3MPU4).
Want to learn more about Sophi CX propelling your NPS to the next level?
Subscribe to our Newsletter
Get tips and tricks to create efficiency and drive revenue for your dealership.